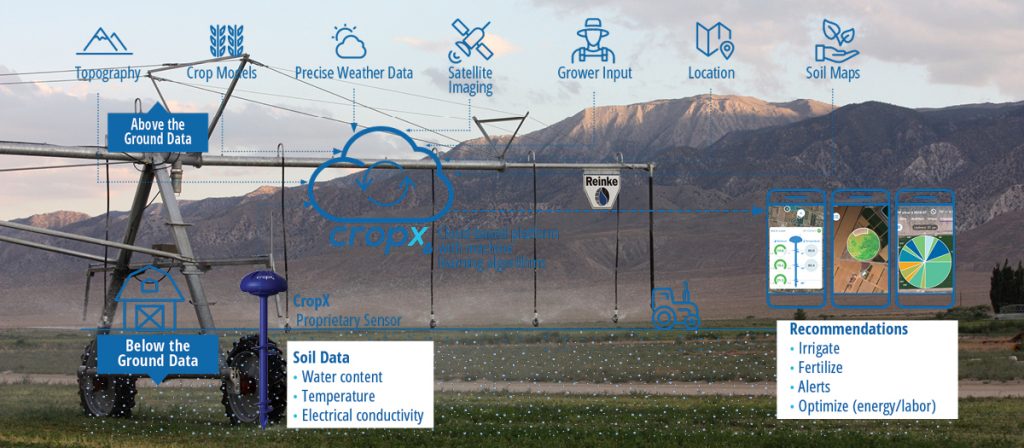 Water is a commodity that is very much in the spotlight at the moment– and will remain so for the foreseeable future. Luckily, for all of us in New Zealand, we have plenty of water available to us, however, it is important that we are all able to share this commodity. With the combined team of Ray Mayne Hose and Fittings and Reinke Manufacturing we have the knowledge, products and the ability to ensure that your irrigation needs are well taken care of and to ensure that what water is utilised for irrigation is applied accurately.
With the wide variety of Reinke products available – Centre Pivots, Swing Arm Corner Pivots and Lateral Irrigators, you can be assured there is a system right for you.
Reinke, and the team at Ray Mayne Hose and Fittings, can design, supply and install the desired irrigation system to suit all needs. Ray Mayne Hose and Fittings have large stocks of all components to supply and assemble Reinke irrigation systems from stock in Ashburton. Having the ability to build systems from stock, that is readily available, eliminates the delay of shipping from the USA. Having been the Reinke dealer in New Zealand for over 20 years, Ray Mayne Hose and Fittings have the staff who have the passion and the knowledge to ensure that all Reinke systems supplied will operate as they have been designed. With the advancement in technology, you can be assured that irrigation water will be applied where you want it and when you want it.
With the introduction of "Reincloud Ag-Data Services", an online software package, designed by Reinke Manufacturing that helps combine field data and irrigation data into one easy to use "dashboard". This includes soil moisture or weather data and other environmental data. It is safe and secure, the operator can be advised by either txt or email. Everyday access is available on multiple devices – smartphone, tablet, laptop or computer. Reincloud is easy to use and informative.
In 2020 Reinke and CropX, a leading Israeli agricultural analytics and soil sensing company, formed a partnership to enable growers, worldwide, to have the very best irrigation scheduling tools. By integrating the technologies and support of these two industry leaders, New Zealand irrigation farmers will be able to access soil health information, this, in turn will help farmers to improve yields, efficiencies and profitability. Through this partnership, farmers will have access to CropX's enhanced irrigation data and can incorporate this data through their "ReinCloud" software. By combining CropX and Reincloud, will ensure that the farmer can monitor and control multiple irrigation systems to the highest level.
Some of the options available are soil moisture, air temperature, ground temperature, wind direction, wind speed, rainfall, humidity and water pressure. All this information is easily accessible to the operator.
Ray Mayne Hose and Fittings experienced "spanning crews" have built hundreds of Reinke centre pivot and lateral irrigators throughout New Zealand, on many varying farming types. Contact the knowledgeable team at Ray Mayne Hose and Fittings for all of your irrigation requirements